Doctoral Student Debuts on 'Jeopardy!' Hoping to Supplement His 'Graduate Life'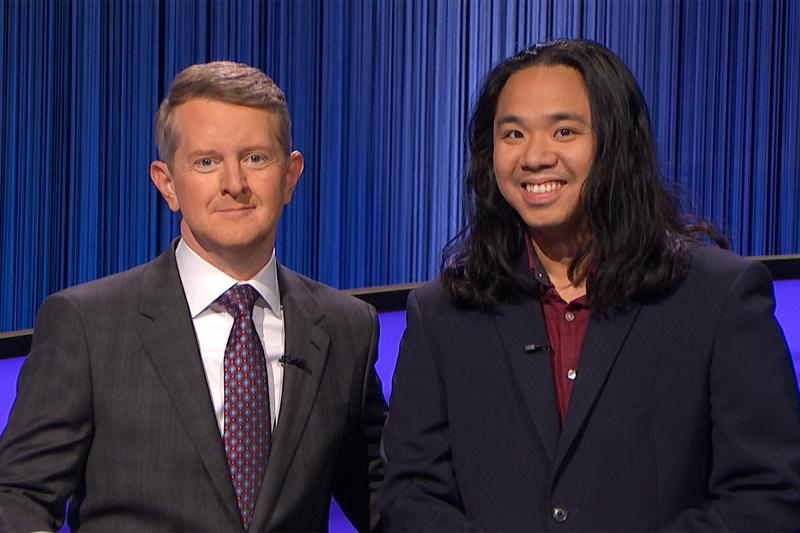 Lloyd Sy, with "Jeopardy!" host Ken Jennings, first met the quiz show king as a high school freshman competing at a national quiz championship. The two bonded over their mutual love of the Seattle Seahawks. (Photo contributed by "Jeopardy!")
With the holidays in the rear-view mirror, life is slowing back down and people are returning to their normal routines. For many, that means settling on the couch after dinner to watch "Jeopardy!"
Members of the University of Virginia community have another reason to tune in to the popular game show Tuesday evening: One of the contestants is a UVA doctoral student whose area of study has him poised to do well on the quiz show, with the chance to derail a returning champion with a 13-game winning streak.
"I'm a sixth-year Ph.D. student in the English department," Lloyd Sy said. "I'm working on a dissertation that's about Native American literature and its representation of deforestation. It studies texts from the 19th century."
Sy is also a film buff with a broad taste in movies, something that could also come in handy. He loves "Chinatown." On the other end of the spectrum is a surprising pick: "How to Train Your Dragon."
"That's a movie that I've seen like 25 times," he said. "There's something very charming about it. I adore that movie."
A Love of Trivia
Sy's love of trivia flowered in high school, when he was on his school's nationally ranked "Quiz Bowl" team in Rockford, Illinois. Many "Quiz Bowl" participants go on to try out for "Jeopardy!" and Sy was no different.
He first tried out in high school, but didn't make it. The idea of trying out again returned to him in this summer.
"I'm currently on the academic job market … and I think thinking about that stressed me out, and I was like, you know, 'It'd be great to have a bit more income this year,'" he said. "Then I thought about how 'Jeopardy!' might be able to supplement that. The graduate life isn't the most lucrative thing in the world."
So, he took the plunge. After doing well on the initial online test, the show's producers called him back for a second game. This time, a proctor watched Sy take the test on Zoom. He returned for a third and final test on Zoom, this time competing against two other people in late July.
"You held up a ballpoint pen and you pretended like that was a buzzer, and they called on you and you had to give your answers to the form of a question, like on the show," Sy said.
He did well. The producers said they would be in touch if they wanted him on the show. They told him the time frame was a year and a half. "I just slotted it in the back of my head and went on with my life," he said.
What started as an uncertain process quickly went into overdrive in mid-October, when a casting director reached out to Sy with a question: Could he get himself out to Culver City, California, to tape his appearance on the show in two weeks?
Soon enough, Sy found himself in a studio, where producers tape a week's worth of shows in a single day, months in advance of airtime.
Contestants are asked to bring several changes of clothes. "If you win, you just run back and change your shirt and you run back out," Sy said. "Most people don't use those clothes."
That factoid was the closest Sy could come to shedding any light on the outcome of his appearance on the show. The folks at "Jeopardy!" require contestants to stay tight-lipped.
"You have to sign agreements saying, 'Don't do this, don't do that,'" Sy said. "They have very precise social media guidelines … like a whole document of, 'Here's how you should Tweet about it. Here is how you should post on Facebook about it.'
"But the big one is basically just that they don't want you to tell people whether you win or lose and they don't want you to tell people how many episodes you're on, because that will reveal whether you win or lose," Sy said.
So how well did Sy do with "Jeopardy!" host Ken Jennings, who shares that duty with actor Mayim Bialik? You'll just have to tune in to find out.