Exploring the Immune System One Cell at a Time: UVA Chemist Receives Coveted NSF CAREER Award
If you accidentally injure yourself, a little inflammation is good for you. It may hurt, but it's a healthy response — one that means your immune system is attacking pathogens and stimulating healing. But if your body doesn't know when to turn off the pain, you could be in for a host of other problems, including arthritis, heart disease, cancer or a debilitating addiction to pain killers.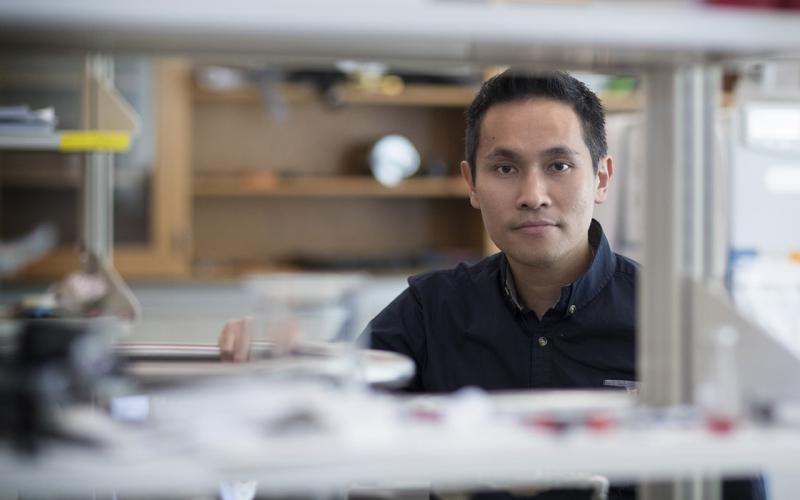 Ken Hsu, Assistant Professor of Chemistry
Sanjay Suchak, University Communications
That's the problem at the heart of assistant professor of chemistry Ku-Lung (Ken) Hsu's search for a chemical pathway for controlling the immune system that would maximize its healing power and minimize its more harmful effects—a research project that led to his being chosen as a winner of one of the National Science Foundation's 2020 CAREER Award winners, a highly competitive award reserved for the most promising young science and engineering faculty in the country.
But the problem isn't as simple as turning the immune system on or off, Hsu explains, it's a matter of finding a solution that would allow doctors to turn up the immune system to do its work without the pain and without opening the door to auto-immune diseases in which the body begins to attack its own healthy cells.
"It's extraordinarily complex," Hsu says. "We really want to understand metabolism at the single-cell level. Our immune system is composed of key tissues as well as a massive assortment of cells, and often times we treat these cells as if they were all equivalent because the technologies for measuring their activity were not yet available. Each cell is unique, and what the CAREER Award is going to allow us to do is figure out how different or similar they can be based on their ability to metabolize fats."
His research findings may play an important part in developing new treatments for managing inflammation in cancer and other diseases, and his work has already earned him support from the UVA Cancer Center.
"Ken Hsu's CAREER Award will allow him to use his unique chemical expertise to construct new and powerful bridges among UVA Cancer Center investigators investigating unexplored questions in cancer biology pharmacology, immunology, and pathology," according to John Lazo, research faculty director for UVA's School of Medicine.
The award brings with it a grant of $681,000 that will help fund Hsu' research over the next five years, but he explains, "It's not just support for the research."
Hsu compares the application for the CAREER Award to a triathlon. In addition to making a compelling case for the importance of their research, applicants also need to demonstrate their commitment to leadership in education and the broader community.
"To put that together in a single application," Hsu says, "that's what makes it so challenging."
That's why the grant will also support a program Hsu designed to connect chemistry students with minority communities to bring the results of his research to bear on everyday things like the effects of various foods on health.
Part of his research focuses on the role of fats in the functioning of the immune system. "When I present our research," Hsu says, "I try to connect molecular details of lipids (fats) with everyday events including, for example, the role of omega-3 fatty acids in inflammation and why they are considered 'healthy' fats. It brings a real world aspect to the research and emphasizes the relevance to things that could impact people on an everyday basis."
Hsu is one of seven winners of the coveted CAREER Award in the College of Arts & Sciences and the School of Engineering and Applied Science so far this year – a remarkable number that's almost twice the number of awards UVA faculty have won in recent years.
"Prof Hsu's CAREER award showcases the top flight faculty that we are recruiting to UVA," says Jill Venton, chair of UVA's department of chemistry. "This is our department's third CAREER award in two years, and our assistant professors are gaining notoriety for their outstanding research."
---
Read more about Arts & Science's 2020 NSF CAREER Award Winners:
Cristian Danna (Biology)
Dan Meliza (Psychology)
Marija Vucelja (Physics)