Rebecca Pompano Wins A Moore Inventor Fellowship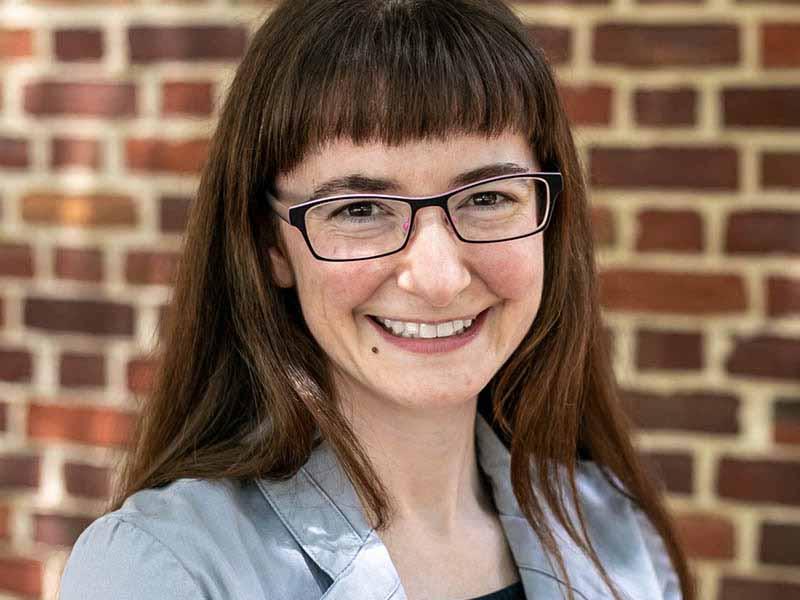 Think of the difference between a list of ingredients and a recipe or the difference between a census and an interactive map showing where people live, work, shop and travel. That gives you a clearer picture of how the field of cell biology's understanding of the body has advanced in the last 20 years.
Progress in microscope technology over the last two decades has led biologists to discover that simply knowing which cells and molecules are present in a sample of human or animal tissue is not enough to be able to develop pharmaceuticals and other therapies to treat cancer, autoimmune disorders and other complex diseases. It's also important to understand where those cells are in the tissue and how they interact. The challenge has been in finding ways to observe those interactions. An innovative tool developed by Rebecca Pompano, an associate professor of chemistry with the University of Virginia's College and Graduate School of Arts & Sciences, may offer a solution. Pompano's efforts to meet the challenge have led to her becoming the first UVA faculty member to win a Moore Inventor Fellowship, an honor awarded to only five people each year.
For researchers hoping to observe the effects of vaccines or other drugs on cell and tissues under a microscope, there are currently two methods, and neither one is ideal. The first option is to use fixed tissue – essentially dead tissue – which is easy to observe but cannot be stimulated and cannot respond to the presence of a drug. The second is to use a lab animal that has been genetically altered to express a fluorescent protein, but the process is a slow one that allows the researcher to observe only one type of molecule at a time.
Pompano envisions something much more practical.
"The problem I wanted to solve was to find a way to take any piece of live tissue, including biopsies from humans, and see what's happening inside it, how it responds to a drug, for example. We need to be able to see where molecules are being released so that you can predict what they're doing," Pompano said.
As a graduate student in chemistry, Pompano studied biomicrofluidics, a science concerned with observing the movement of fluids through extremely small channels to study biological events. She was specifically interested in complex biological systems and how those systems manage to become more than just the sum of their parts. That interest later led her to a postdoctoral fellowship in immunology where she was involved in developing new vaccines and immunotherapies. Today, she combines those interests in her own lab as a member of the faculty of UVA's Department of Chemistry.
"My group works at the interface of chemistry and engineering and immunology," said Pompano, who is also on the faculty of UVA's School of Engineering and Applied Science's Department of Biomedical Engineering. "We're trying to make new ways to study the immune system, and what that means is that we're interested in how cells are organized, how they communicate with one another and how that allows them to respond to things like a vaccination, a tumor or the beginning of an autoimmune disease."
The interdisciplinary nature of her work led Pompano to begin developing a commercially viable chemical process consisting of a unique set of chemicals called reagents that could be added to a sample of live tissue to reveal the presence and concentration of molecules within the tissue, much like a black light's effect on fluorescent paint.
Pompano is most interested in molecules called cytokines, which are small proteins that function as signals for the immune system, triggering cell growth, inflammation and other immune responses. Ultimately, the system of reagents she's developing will allow researchers to see how cells are communicating by allowing them to see what cytokines are being secreted and by which cells.
As Pompano explains it, "We'll be able to make a map of who is speaking, what they are saying and to whom. That will allow us to understand the progression of diseases like immune disorders or cancer or chronic inflammatory diseases so much better that it will hopefully lead to new ways to treat those diseases."
Kimberly Kelly, a professor of biomedical engineering at UVA and the CEO of Zielbio, a clinical-stage pharmaceutical company focused on revolutionizing the treatment of cancers, said this work is critically important for our understanding of a whole host of diseases. Kelly works with Pompano, developing some of the unique reagents that will be used to study cytokines secreted by immune-system cells known as T cells, which help fight infection and may also help the body fight cancer.
"Using the body's own immune system to fight tumors has been truly transformative for the treatment of cancer," Kelly said. "The question is how does that work and how do we better unleash the body's potential? And there are also diseases like Type 1 diabetes where immune cells attack the cells of the pancreas. Rebecca's work is really innovative and really exciting with lots of implications for better understanding how we harness these processes for good and how we stop them when they're not."
And not only does Pompano feel that there's a better way to observe those processes, she envisions a solution that won't require prohibitively expensive equipment.
"We want something that anybody with a fluorescence microscope would be able to use," Pompano said. "In the end, the invention will be a kit – a set of reagents and instructions – that any researcher can use."
There's still work to be done to realize the concept, but the Moore Inventor Fellowship, established by Gordon Moore, inventor and founder of the semiconductor company Intel, was created to support the development of breakthrough tools and technology that have the potential to accelerate the pace of discovery in the sciences, environmental conservation and patient care. Each year, the Gordon and Betty Moore Foundation names five fellows and provides them with a three-year grant totaling $825,000. For Pompano, the award will allow her to continue to develop her invention and ultimately to make it available to the biomedical research community.
"This is a transformational technology that has the potential to make a big difference for patients," said Pompano. "Not everyone is excited to fund translational science, and the fact that the Gordon and Betty Moore Foundation is so visionary will make a big difference for our research, for the students involved and eventually for the patients whose diseases we will be better able to understand. It's really exciting to have somebody give us this opportunity."
Tajie Harris, a neuro-immunologist with UVA's School of Medicine whose research focuses on how the immune system fights infections in the brain called the Moore fellowship "a recognition of Rebecca's innovation and leadership and a testament to the quality of research that's going on at UVA."
"Rebecca is an outstanding researcher," Harris said. "She is at the interface of chemistry and engineering where she's able to engineer systems to ask questions that we can't ask in any other way. She's likely going to discover things that we can't address with any other model system, and that is likely to inform how we can build better vaccine strategies or better ways to manipulate or block the immune system.
"We all understand the importance of vaccines, but she's figuring out the optimal conditions for them to work, what's happening in the tissue and what we might be missing."
Pompano's knack for innovation is nothing new, according to UVA Licensing & Ventures Group Director of Licensing Josh Mauldin.
"Since joining UVA, Rebecca has been a prolific inventor who places an emphasis on the translational aspect of her research and appreciates the important role that commercialization has in disseminating the knowledge created at the University," Mauldin said. 
Added UVA LVG Executive Director Richard W. Chylla: "This Moore fellowship is a wonderful acknowledgement of her lab's previous efforts, but more importantly, it will provide tremendous support for her to continue making advances in the fields of immunology, chemistry and engineering."