Since Thomas Jefferson signed the Declaration of Independence, it is estimated that an average of one dam has been built in the United States every day. There is still much that we don't know about the impact that dams have on waterways, and with incidents of catastrophic flooding on the rise, it is becoming more and more important that we understand the role humans play in our changing environment. Research by Ajay Limaye, an assistant professor with UVA's College and Graduate School of Arts & Sciences, promises to shed new light on the intersection of rivers and the communities that are impacted by them; the work has earned him a 2023 CAREER award from the National Science Foundation, one of the most prestigious awards available to promising young academic research scientists and educators.
"Rivers play a central role in the evolution of landscapes," said Limaye, a geoscientist in the College's Department of Environmental Sciences who studies landforms and how they change over time. "They carve canyons; they build wide, impressive flood plains that have downstream consequences for agriculture but also for flooding and erosion; and they also play a big role in the chemistry of the Earth over both long and short time scales, moving carbon, pollutants and nutrients from the land to the ocean. I like to think of rivers as threads through time that connect the past, the present and the future of the planet."
According to Limaye, scientists and engineers who identify and remediate problems and potential hazards that intersect with land development, infrastructure projects and natural disasters often rely on rules of thumb about how the shapes of river bends influence the movement of sediment and contaminants through the landscape.
"There's an informal language about what the shapes of these river bends are that developed decades before we had the ability to measure things easily," Limaye said. "There's been a huge transformation in our ability to measure the earth."
Using satellite data, computer models, machine learning and a variety of other tools, Limaye is working to develop a more data-driven approach to understanding how rivers form their shapes. His research uses data for landscape change to better predict how rivers will respond to a changing climate.
Karen McGlathery, UVA's Sherrell J. Aston Chaired Professor in Environmental Sciences and the University's director of UVA's Environmental Institute, said Limaye's research is key to deepening our knowledge of a critical issue.
"Landscapes are incredibly dynamic, and Ajay Limaye's research is important to understanding how river systems and the communities that depend on them are impacted changing conditions, from extreme events like climate-related droughts and floods to processes that evolve over centuries to millennia," McGlathery said.
Limaye is also looking at clues offered by Mars or Titan, one of Saturn's moons.
"In some ways, these are the most Earth-like places in the solar system," Limaye said, "There's an amazing similarity in their landscapes that we can connect to the terrain around us, and part of our research will involve looking at river-shaped landscapes on Mars and Titan to better understand the landscapes in our own backyards."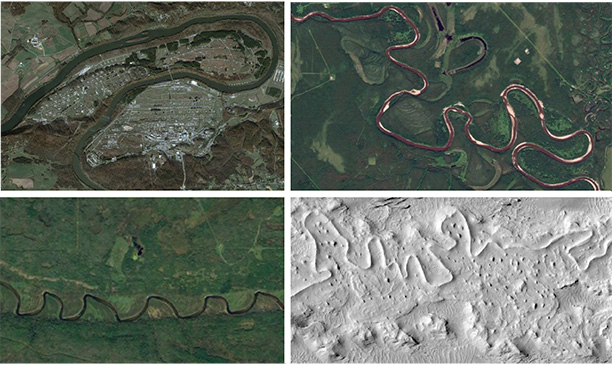 Limaye's CAREER award comes with a grant of over $500,000 that will fund his research for the next five years. Much of the funding will support the research of graduate students, postdoctoral fellows and undergraduates who will work alongside him in the lab while also providing them with travel and career-development opportunities. Limaye also plans to strengthen UVA's ties to national organizations supporting geoscience education and career development for scholars from communities underrepresented in the field.
To that end, he's working with faculty members in UVA's School of Education and Human Development and in the College's Department of Music to find better ways to involve students and the community in understanding how rivers intersect with our lives and to illustrate the importance of creativity in scientific research.
An amateur musician, Limaye has partnered with Emmy-award winning composer and UVA professor of music Matthew Burtner who explores ways to immerse listeners in interactive relationships with the environment through music. The two are collaborating to develop musical representations of rivers and are planning a public performance that they hope will engage listeners with science in new ways and bring new perspectives to the work.
"Landscapes are where people encounter science," Limaye said, "And I think the health and success of our field relies on remaining in communication with all of the communities that have an interest in defining what our science is and what it means."
Limaye is also working with UVA associate professor of education Jennifer Chiu to understand the impact of combined scientific and artistic ventures, exploring how audiences respond and what they take away from the experience.
"People rarely see examples that science is a creative endeavor," Chiu said. "Limaye's work to sonify river features can not only help people see how science can be creative but also help to engage people in science by providing different and novel representations of concepts. Moreover, his work on using machine learning to create a kind of language of river features is an excellent example for science students to see how AI and computing can be used to understand the natural world."
"We have the best of all worlds at UVA where we have leading thinkers in science and the humanities, and to do the best science we can, we need to be able to draw on the full range of human knowledge," Limaye said of the cross-disciplinary potential of the work the CAREER award will support. "This project will enable us take a bold step toward bridging the scientific and artistic disciplines and connecting communities."
In Limaye's case, Howard Epstein, chair of the College's Department of Environmental Sciences said the terms 'ground-breaking' and 'cutting-edge' can be taken literally.  
"Because that's exactly what rivers do to shape the landscapes through which they run," Epstein said. "This CAREER award will give Ajay the opportunity to explore the various shapes and sizes that rivers take as they are controlled by their environments and in turn generate landscapes.
"In addition to understanding the root causes of these processes and the influence of climate change on rivers, Ajay brings a great deal of creativity to his approaches for expressing and communicating his science to others."