Ten Years of Expanding the Reach of Language Instruction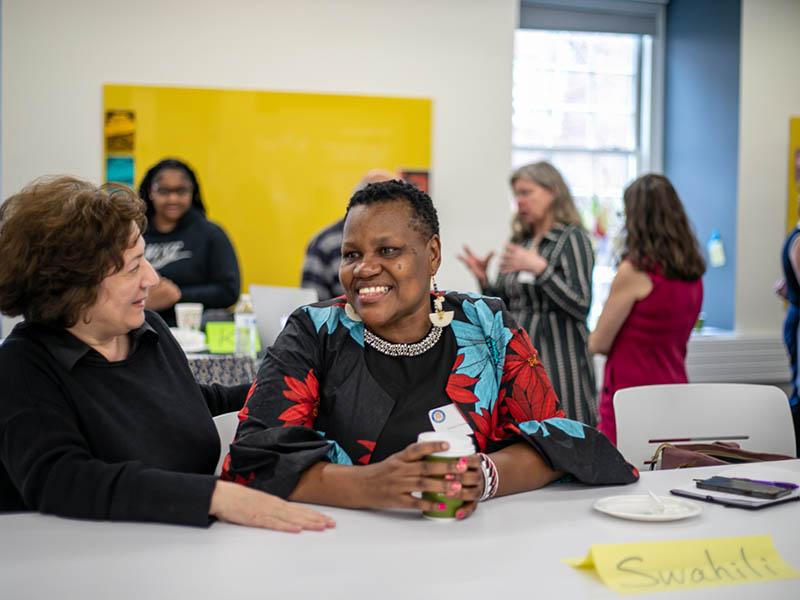 On many U.S. college campuses, the opportunities to study Swahili, Haitian Creole, Kiché and Turkish do not exist. For the last decade, however, language faculty and administrators at the University of Virginia, Duke University and Vanderbilt University have collaborated to offer classes in those languages and others not traditionally taught at U.S. universities.
Taught in-person and in hybrid formats featuring an online component, these courses reach across these universities' three campuses to introduce a growing number of students to these less commonly taught languages. Earlier this month, the Consortium for Less Commonly Taught Languages celebrated the 10-year anniversary of this collaboration with a full day of workshops on Grounds at UVA.
Faculty from the Consortium's three universities gathered in New Cabell Hall's Language Commons, a familiar space for students in the College and Graduate School of Arts & Science working on their language skills, to share their teaching strategies and swap stories about how the initiative has evolved and grown over 10 years. UVA students also were able to meet the instructors of their online classes from Duke and Vanderbilt.
"Ten years of collaboration is a historical juncture and milestone that allows us to both reflect on what we have accomplished and to look forward to another exciting decade of further collaboration," said Miao-Fen Tseng, inaugural director of UVA's Institute of World Languages and Daniels Family NEH Distinguished Professor. "This was the very first time that faculty who teach Consortium languages met in person to share so many aspects of their teaching and learning and to acknowledge the extraordinary contributions that we have all made in this long, 10-year journey. Apart from fostering more professional networking among Duke, UVA, and Vanderbilt, the anniversary meetings generated food for thought for envisioning and strategizing the Consortium's future development."
The March 2 meetings included presentations by professors teaching the four languages currently offered — Haitian Creole, K'iche' (a Mayan language of Guatemala), Swahili and Turkish. A fifth language, Malagasy (the national language of Madagascar) offered at Duke, is also being added this fall to the Consortium's offerings.
Vanderbilt Prof. Mareike Sattler teaches courses in K'iche, one of the most common indigenous languages in Latin America, primarily in the western highlands of Guatemala, through the Consortium.
"Meeting here [at UVA] is very helpful to share our teaching experiences and to help develop new ideas," she said. "It's hard to do that remotely, to get all the strings together and come up with a good product when you are working on your own on your own campus," she said.
Swahili, spoken in Kenya, Tanzania and Uganda, as well as parts of Rwanda, Burundi, the Democratic Republic of Congo, Mozambique, Zambia and other countries, is one of the more recent additions to the languages taught within the Consortium. It was added to the Consortium in 2021, but UVA has offered small classes in Swahili language instruction since 2007 in the College's Carter G. Woodson Institute of African American and African Studies.
Hundreds of UVA students have taken Swahili courses over the years, but the Consortium has helped to broaden the program's reach and to introduce it to a growing number of students, both on Grounds and on the campuses of the Consortium's other universities.
"Swahili is a language that is growing so fast around the world," said Anne Rotich, an associate professor of Swahili language and culture who has been teaching language courses at UVA since 2015. "The Consortium provides an opportunity for so many more students, at UVA and elsewhere, to learn."
Through UVA and its Institute of World Languages, instructors of courses offered through the Consortium receive funding for teaching assistants to lead online conversation sessions for students at UVA, Vanderbilt and Duke working on their language skills. For some students, their newfound interest in these languages lead to research and internship opportunities overseas.
Ben Ross, a third-year Global Studies major from Northern Virginia, has been taking Swahili — also known as "Kiswahili" — courses at UVA. He lived briefly in Kenya with his family while his parents, who worked for the U.S. State Department, where stationed there. Ross recently received a grant from the University to return to Kenya this summer for an environmentally sustainability research project. He hopes to also find a volunteer opportunity to extend his time in Kenya and intends to pursue a job there after graduation.
"If kiswahili wasn't being taught here, I wouldn't have a chance at pursuing this research grant or any of these experiences," Grant said. "I'm more optimistic now about getting a job in Kenya after graduation, and none of those things would have fallen together without these opportunities to study the language here."